Skip the store-bought, bottled marinara sauce and make your own with fresh tomatoes, onions, and herbs. This marinara recipe can be used in all of your favorite pasta dishes. Once you taste how fresh the sauce is, you will be hooked! Give it a try when you make this Baked Ziti!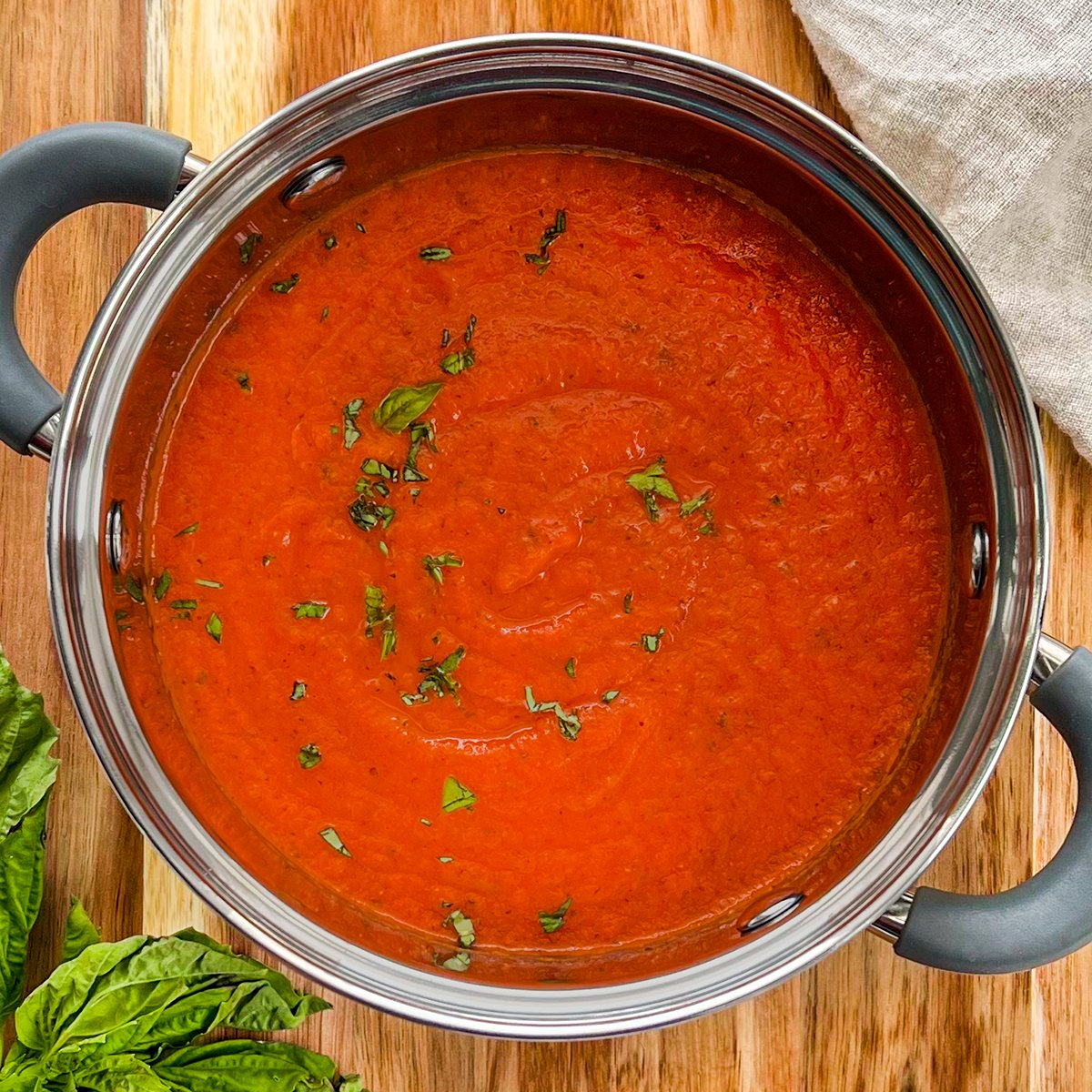 Marinara Sauce
Marinara Sauce is a tomato-based sauce that is used in many pasta dishes and even as a dip. It is different than tomato sauce, which is a bit thicker. It's a versatile sauce made with minimal ingredients. When you make it yourself, you know exactly what ingredients are added to the recipe with no extra, unwanted preservatives. One of our favorite ways to use fresh marinara is with homemade pasta. It is also a great dipping sauce, for any kind of bread, especially a warm and fresh loaf of homemade rustic bread.
Specialty Ingredients
Roma Tomatoes
Roma tomatoes are used in this recipe due to their "meaty" nature. They have fewer seeds and liquid than other varieties of tomato, which makes them perfect for sauces. Realistically, you can use any kind of tomato to make marinara sauce, even canned tomatoes. If using canned tomatoes, we recommend San Marzano tomatoes.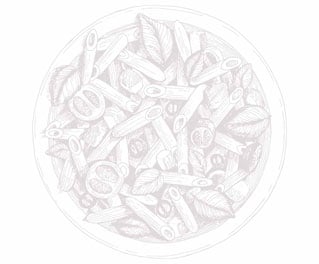 Nutritional Information
per serving
Nutrition information is calculated using an ingredient database and can vary based on the products used as well as changes made to the recipe. If these numbers are very important to you, I would recommend calculating them yourself.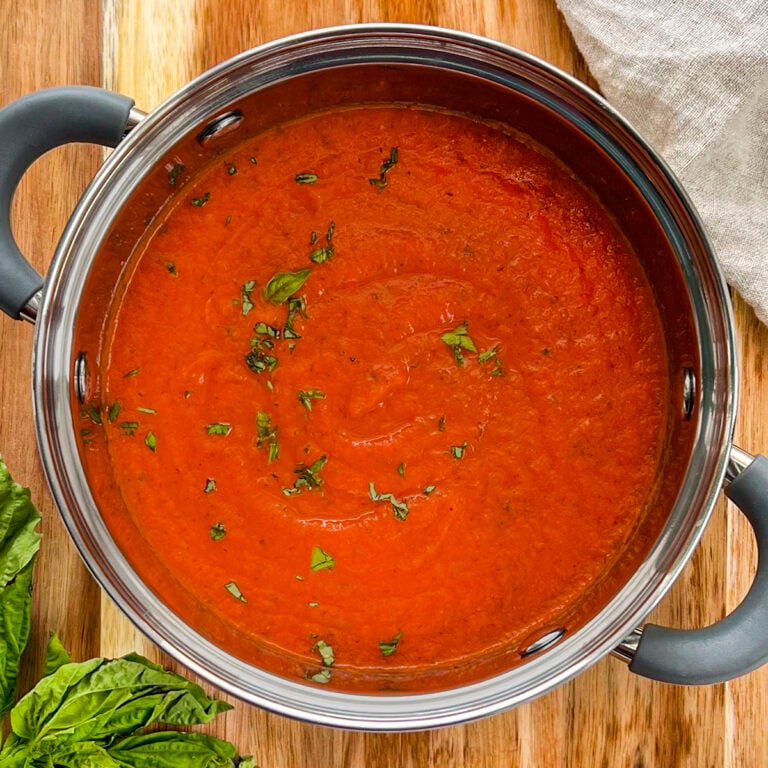 Marinara Sauce
Skip the store-bought, bottled marinara sauce and make your own with fresh tomatoes, onions, and herbs to be used in all of your favorite pasta dishes and as a dipping sauce.
Ingredients
¼

cup

(53 g) olive oil

1

yellow

onion,

finely diced (about 1 cup)

1

tablespoon

minced garlic

4

pounds

Roma tomatoes,

about 20 tomatoes

2

tablespoons

chopped fresh oregano

2

tablespoons

chopped fresh basil

2

teaspoons

kosher salt

2

teaspoons

granulated sugar

1

bay

leaf
Instructions
Gather your ingredients. Bring a pot of water to a boil and prepare a bowl with cold water and plenty of ice.

Thoroughly wash your tomatoes, remove the core from the tops of the tomatoes, and use a very sharp knife to cut a shallow "x" at the bottom of each tomato.

Blanch the tomatoes in the boiling water for 20-30 seconds.

After blanching the tomatoes, immediately place them in the prepared ice bath.

When the tomatoes are cool enough to handle, transfer them to a cutting board. Using either your hands or a paring knife, peel the skins. Then, cut each tomato into quarters.

In a medium saucepan over medium heat, add oil. Once hot, add the onion and cook until soft, 3-5 minutes. Add garlic and cook for 1 minute.

Add the tomatoes and gently mash them down. Then, add oregano, basil, salt, sugar, and bay leaf. Stir well.

Reduce the heat to low, cover, and simmer for 1 hour, stirring occasionally. After the hour, remove the bay leaf and Use an immersion blender to smooth out the sauce and incorporate all of the ingredients. Serve immediately.
More Recipes You Might Like