This rustic bread recipe is simply the best. With only 4 ingredients and very little effort, you will be enjoying a warm slice of bread that is crusty on the outside and pillowy soft on the inside. No kneading or special skills are required!
How to Make Rustic Bread
Believe it or not, making bread does not need to be difficult. This recipe is perfect for beginners who still want to look like experts! After mixing your FOUR ingredients together in a bowl, you cover and wait. After a few hours, the dough will have risen to double in size. From here, you simply shape the dough and place it in the dutch oven. Rest again, slice an "x" on the top with a sharp knife, and then bake.
Nutritional Information
per serving
Nutrition information is calculated using an ingredient database and can vary based on the products used as well as changes made to the recipe. If these numbers are very important to you, I would recommend calculating them yourself.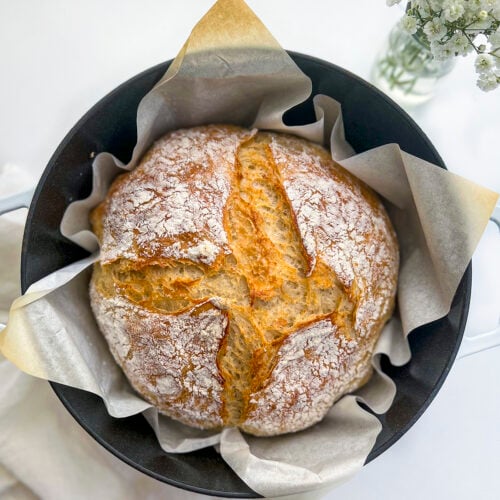 Simple Rustic Bread
Quick and easy rustic bread that you can make with 4 simple ingredients. You won't believe how easy it is to make homemade rustic bread that is crusty on the outside and pillowy soft on the inside.
Ingredients
3-3½

cups

(375-438 g) all-purpose flour,

plus more for dusting

2¼

teaspoons

instant yeast

2

teaspoons

kosher salt

1½

cups

(354 g) water,

warm (about 110°F)
Instructions
In a large bowl, whisk together dry ingredients.

Add water and stir together using a rubber spatula. The dough will be wet and sticky at first, which is okay, but should not be "watery".

Cover the bowl with plastic wrap and allow it to rise for 2 to 2½ hours in a warm place, or until tripled in size and bubbly (fluffy) in appearance.

Place dough onto a heavily floured surface and flour your hands. Shape the dough by stretching and folding the bottom of the dough up to the middle, then stretching and folding each side up and to the middle, and ending with stretching and folding the top of the loaf into the middle. Then, flip the dough over so that all of those seams are now on the bottom. Using cupped hands, push the dough in a circular motion to form it into a dough ball.

Line a Dutch oven with parchment paper. Place the ball of dough into the lined Dutch oven. Lightly flour the top of the dough ball and cover with plastic wrap. Allow the dough to rest for 30 minutes.

Preheat the oven to 450°F.

Using a very sharp knife like a paring knife or a bread lame, score the top of the loaf with an "x".

Cover and bake for 30 minutes.

After baking for 30 minutes, uncover and continue to bake for 15 additional minutes or until golden brown on top. Carefully remove the loaf from the Dutch oven and allow it to cool for 30 minutes. Slice and serve.
Video